Its Halloween time and today we are going to share some healthy Halloween Inspired snacks for you to make with your kids! These are so fun and easy to make because it requires not baking or cooking. My daughter was so thrilled to make these fun snacks with me and couldn't wait to eat them! Wish you enjoy and have a safe Happy Halloween!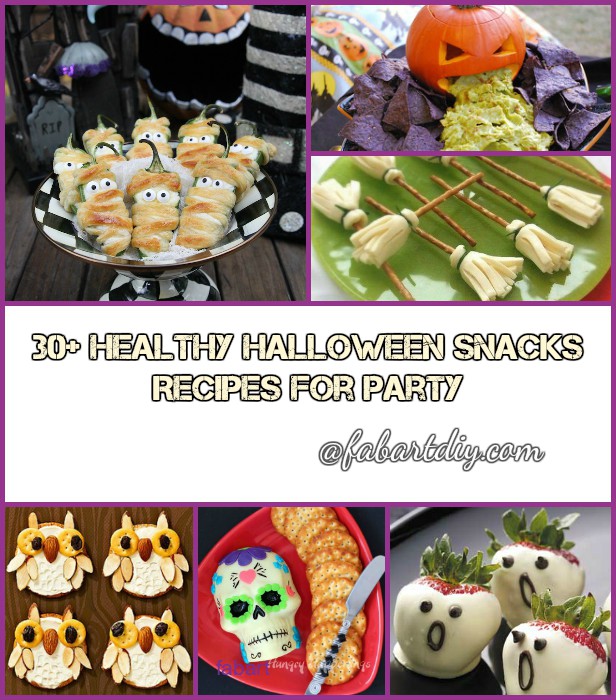 Halloweeño Jalapeño Popper Mummies: They are a perfect addition to your Halloween appetizer spread or to bring to a Halloween party. Details: The Hopeless Housewife.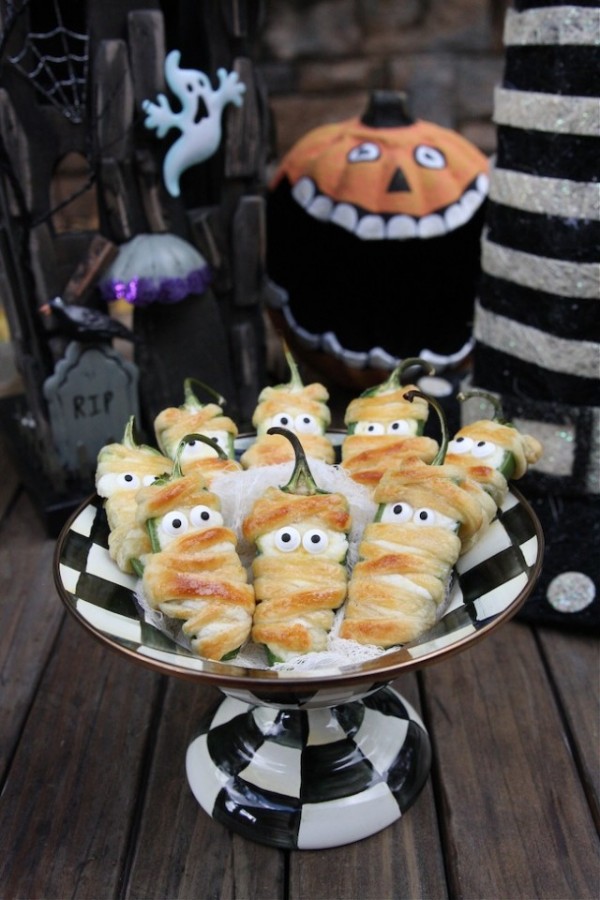 Mummy Toast: Turn a plain piece of toast or pizza into a creepy little mummy snack! Details: Spaceships & Laser Beams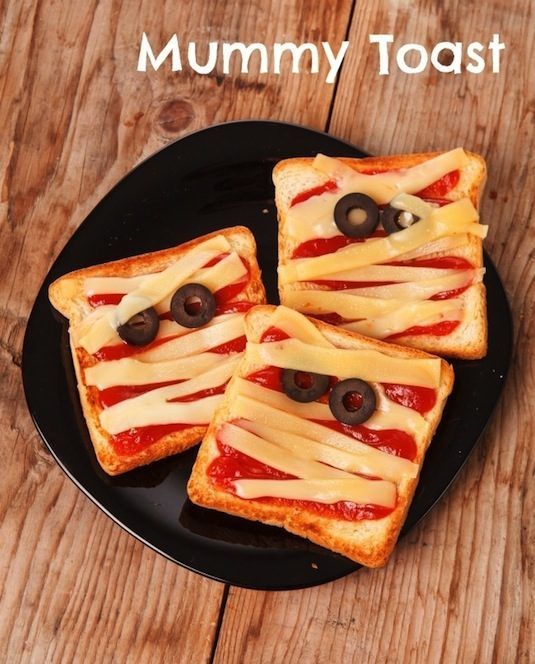 Candy Corn" Veggie
Platter: This arrangement will make the kids forget they're eating something healthy!  Details: Parents.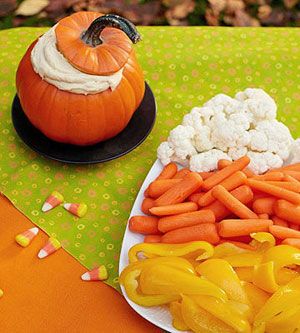 Boo"Nana Pops: A frozen Halloween snack that the kids will love! Details: Skinny Taste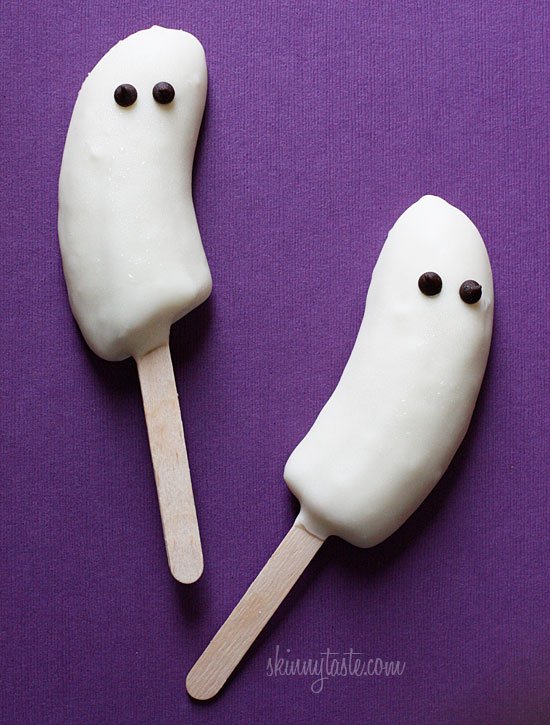 Spider Web Pizza: Love the spider detail with the black olive! Details: The Domestic Mama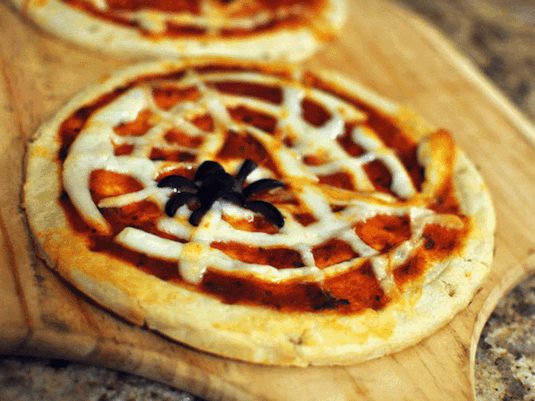 Spooky Fruit Spider Snack: Details: Kitchen Fun With My 3 Sons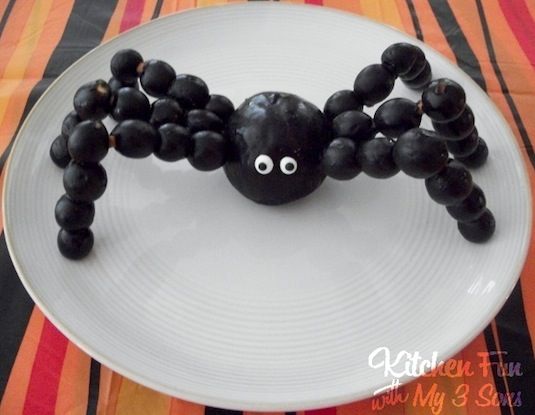 Cheesy Witch Brooms: These edible witch brooms are just perfect packed away in a school lunch or displayed on a party platter. Details: Cocinanda Con Catman
Ghost Toast: Fun Halloween Breakfast idea! Details: Popsugar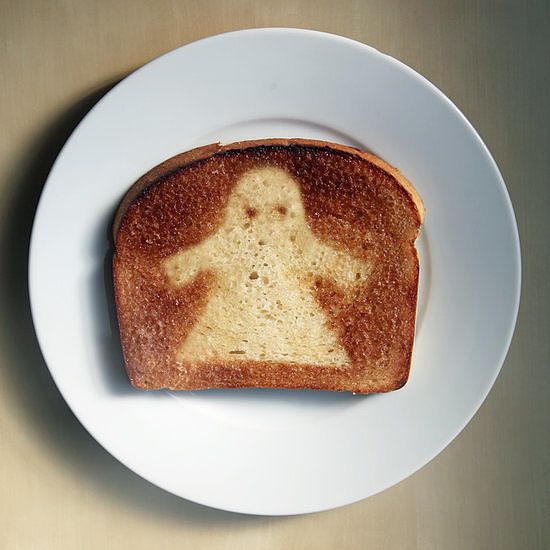 Hot Dog Fingers: Garnish knuckle slices with ketchup to resemble blood, and an onion slice for the yucky nail.  Details: jojoebi designs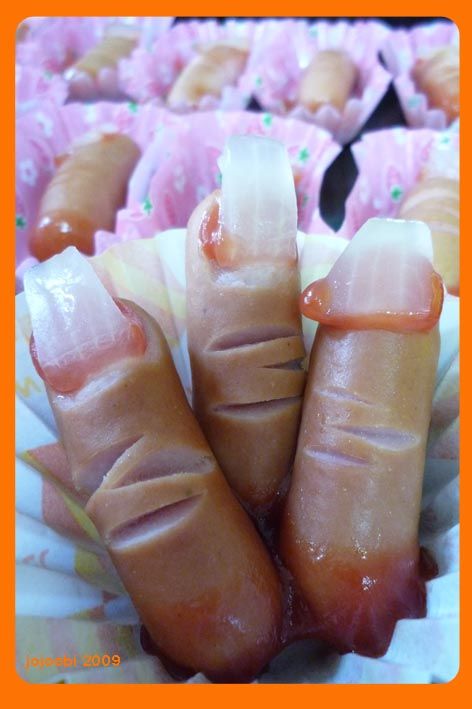 Cheese Eyeballs: Makeup the Babybel cheese rounds into scary edible eyeballs. Details: Cute Food For Kids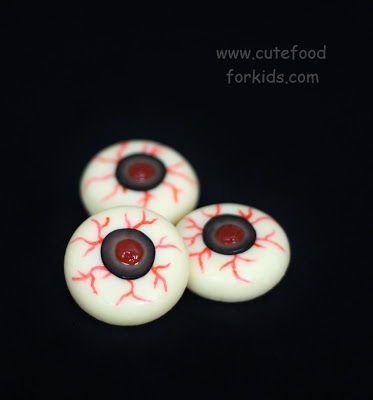 Halloween Deviled Eggs: Topping boilled eggs with an olive spider! Details: : Sunset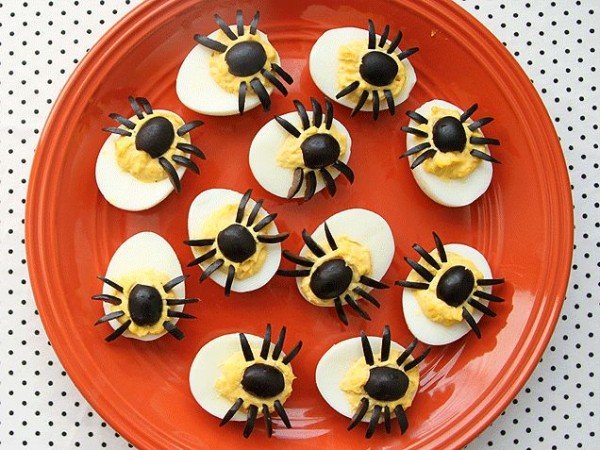 Jack O' Lantern Fruit Cups: A fabulous fall treat to serve your guests. Details: Intimate Weddings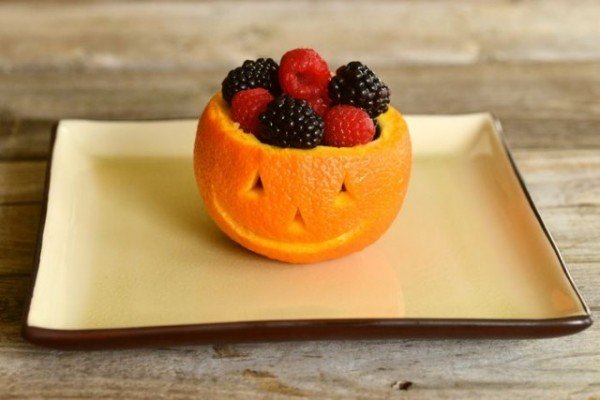 Guacamole From a Pumpkin: Chip appetizers with dips running out of Jack-O Pumpkin. Details: Amee's Savory Dish.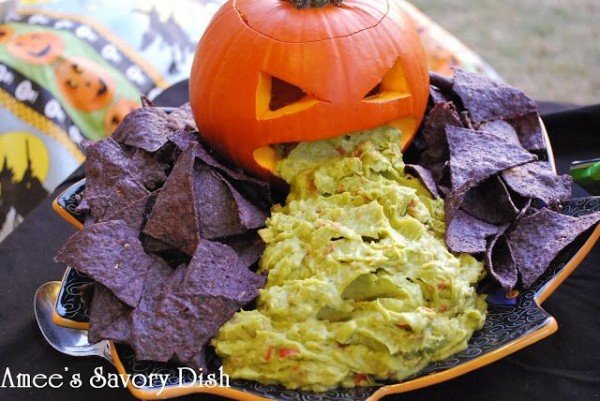 Cheese Sugar Skull: Celebrate the Day of the Dead by serving a decorated sugar skull made from cheese. Details: Hunry Happenings
Hot Dog Caterpillar: Hot dog, one of kids favorite snack, can be easier cut into slices for make fun caterpillar with sauce. Details: Cute Food For Kids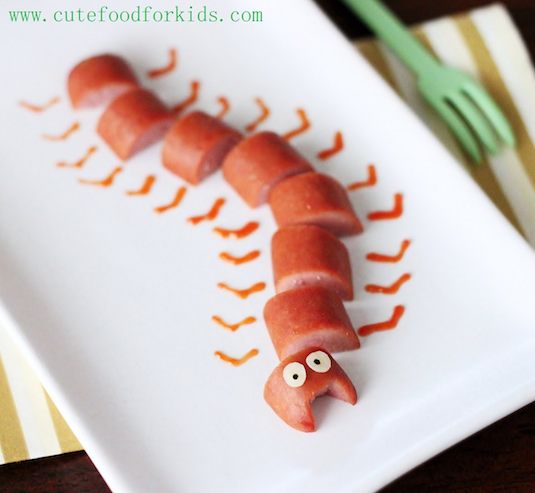 Spiders On A Log: Chop celery into sticks and fill in with favorite sauces, scattering spiders over to make it more spooky. Details: Spaceships & Laser Beams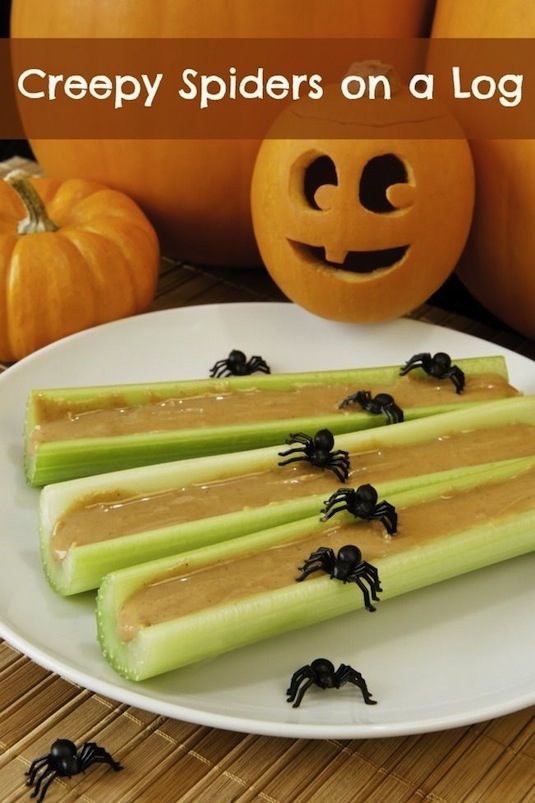 Carrot Fingers: Carrots + almonds over icecream or dips. Details: Spoonful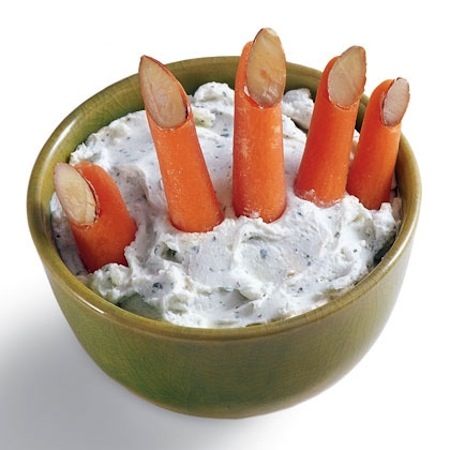 Jack O' Lantern Fruit Bowl: Arrange fruit slices into a Jack-O-Lantern serving tray.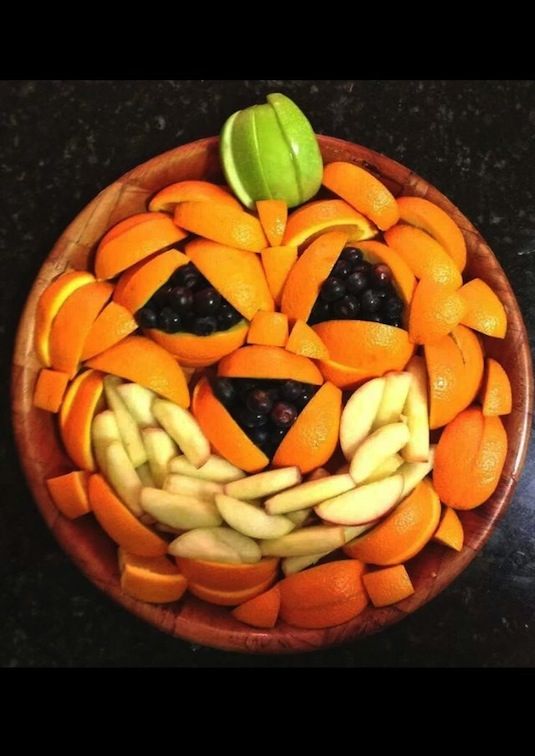 Owl Crackers: Crackers, cream cheese, raisins, and almonds stacked together to create these adorable owl crackers. Details: Parents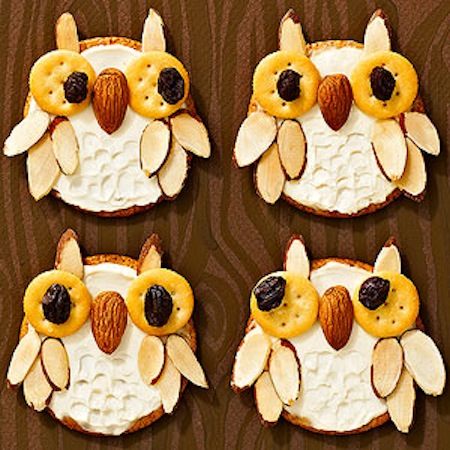 Popcorn Bowl Jack-O-Lantern: Amaze your Halloween party guests with this Jack-O-Lantern Popcorn Bowl that is not only filled with white chocolate popcorn but is made of it too. Details: Hungry Happenings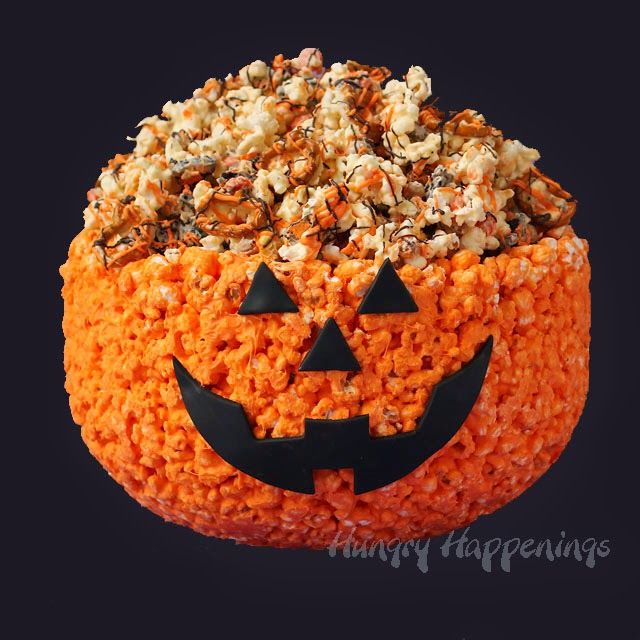 Hot Dog Mummies: Wrap hot dogs with dough and bake them into fatty hot dog mummies. Details: Hugs and Cookies XOXO