37 Ways To Give Your Kitchen A Deep Clean
1.

Scrub the inside of your stove with a baking soda-water paste.
Combine a box of baking soda with water to form a paste. Fill any openings in the oven with foil. Avoiding bare metal surfaces and the oven door, spread it all over your oven then let it sit overnight. Use a plastic scraper or spatula to remove the paste, wetting as needed, then rinse with water.
2.

Clean greasy gas burners in a sealed plastic bag with ammonia.
The V Spot recommends cleaning burners with ammonia: Put the burners in a plastic ziploc, add 1/4 cup of ammonia then seal. Place the bag on a baking sheet and put it outside overnight. The burners don't need to soak, they just need to be exposted to the fumes. Wip the burners clean with a sponge, or briefly dunk into dishsoapy water. (BTW, never mix bleach with ammonia because it creates toxic fumes.)
3.

For electric stoves, use a gentler cleanser.
Remove the electric coils and the reflector dishes — you can use a mild cleanser like Bon Ami on the dishes, but use only water on the coils. Get full instructions from Martha Stewart.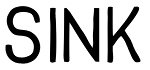 4.

Clean a stainless steel sink with baking soda.

5.

Or with salt and a lemon.