Buttermilk Banana Blueberry Bread Recipe
If you've been following me for a while now, then you'll know that I hate using a loaf pan. I've had several epic fails, but before I swore off all loaf pan recipes, I realized that I could just make mini loaves and not have the whole burning-sides-overcooked-insides situation happening on a consistent basis.
So that's exactly what I did here – I took an amazing banana bread recipe, added some fresh blueberries and threw them in 4 mini loaf pans. Pretty genius, right?
Okay, maybe it's not so genius but I'm just glad to be making quick breads again. Plus, miniature ones are so much cuter and appetizing. And best of all, they make the perfect gifts for neighbors, friends and family. Just throw on some cute ribbon and you're good to go.
So here's how you make this:
Let's first start with the dry ingredients.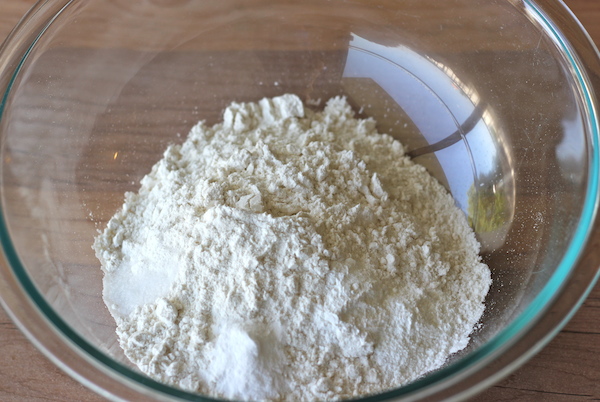 Then we'll cream the butter and sugars together until they get nice and fluffy.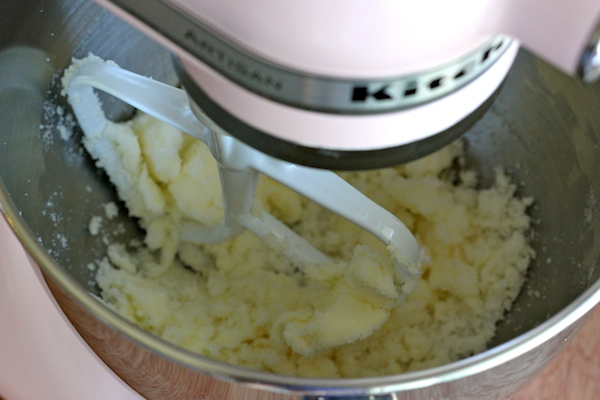 Here we'll add the eggs, buttermilk and vanilla.
Next we'll throw in the super ripe bananas.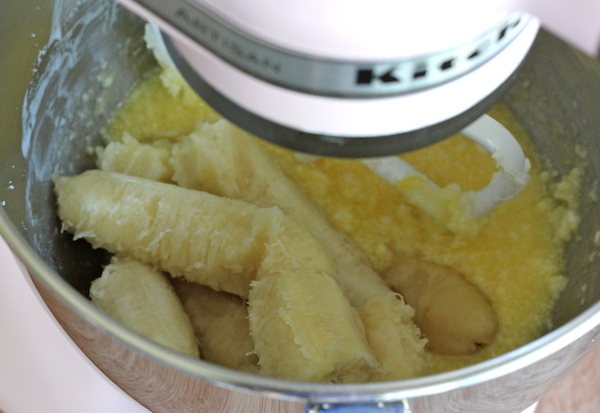 Then comes the flour mixture we made earlier.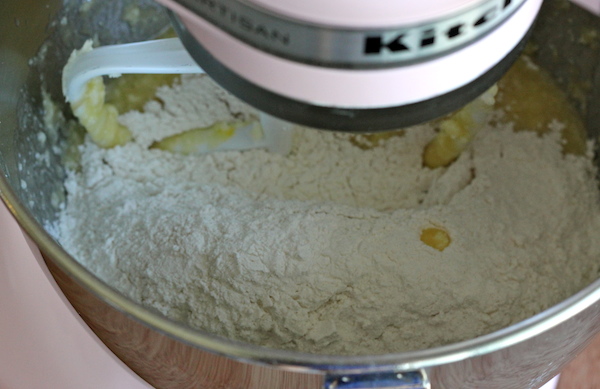 And then we'll stir in the blueberries by hand, being careful not to pop them.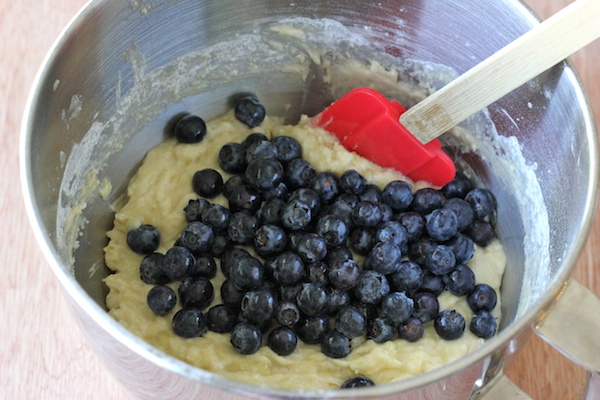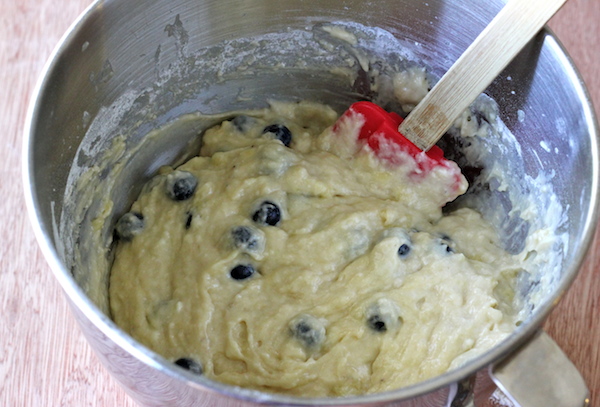 Be sure to divide the batter evenly into the 4 loaf pans. I have major OCD so I weighed them and made sure each loaf pan weighed 272 grams.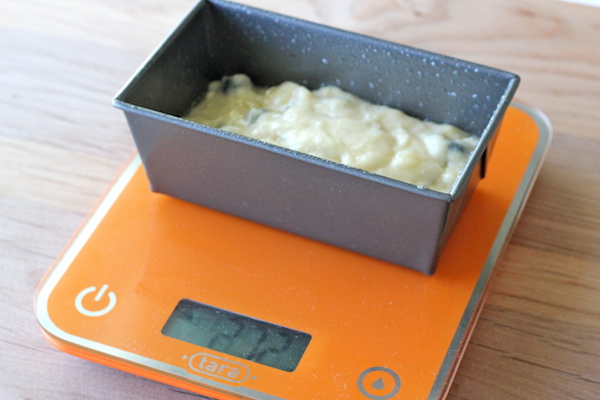 I threw in some blueberries on top for some aesthetic appeal.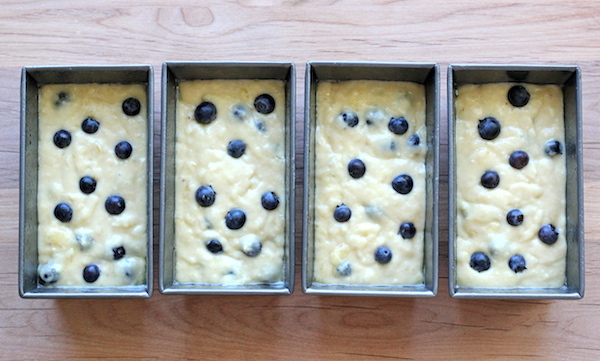 Pop it in the oven and in 30 minutes, you should have 4 very gorgeous banana bread loaves with blueberries sticking out all over the place.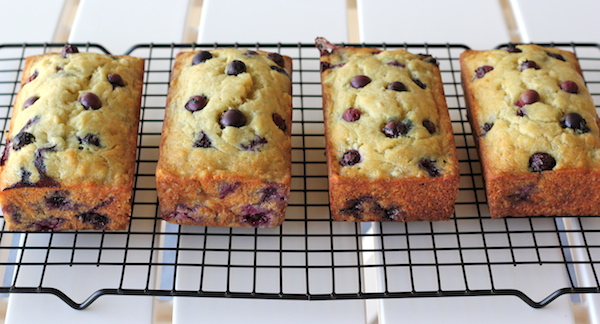 Wrap and give as gifts or take a loaf for yourself!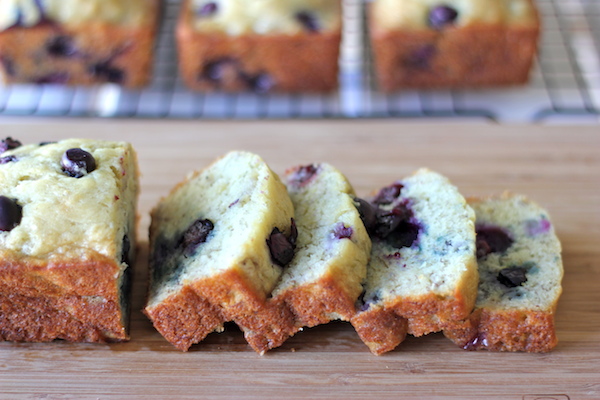 BUTTERMILK BANANA BLUEBERRY BREAD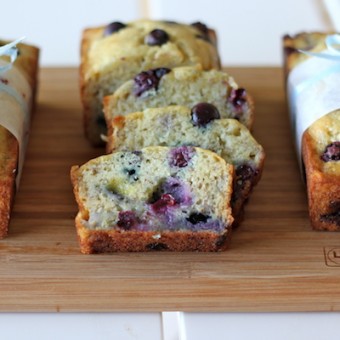 A great way to use up those spotty bananas, and the perfect holiday gift that everyone will love!
INGREDIENTS:
1 3/4 cups all-purpose flour
1 teaspoon baking powder
1/8 teaspoon baking soda
1/4 teaspoon salt
1/2 cup unsalted butter, at room temperature
1 cup sugar
2 large eggs
1/4 cup buttermilk
1/2 teaspoon vanilla extract
3 ripe bananas, mashed
1 cup blueberries
DIRECTIONS:
Preheat oven to 350 degrees F. Lightly coat four 5 3/4-inch mini loaf pans with nonstick spray.
In a large bowl, combine flour, baking powder, baking soda and salt.
In the bowl of an electric mixer fitted with the paddle attachment, beat butter and sugar on medium-high until light and fluffy, about 2-3 minutes. Beat in eggs, buttermilk and vanilla until well combined. Beat in bananas until well combined. Gradually add flour mixture to the sugar mixture at low speed, beating just until incorporated.
Add blueberries and gently toss to combine.
Scoop the batter evenly into the loaf pans. Place into oven and bake for 30-35 minutes, or until a tester inserted in the center comes out clean.
Remove from oven and let cool for 15 minutes before inverting the cake onto a wire rack.