It seems like I see these wooden crates everywhere! From small to large to pallet size, wooden crates are being sold in almost all stores these days. Is there a landscape, craft, hardware or discount store you haven't seen them in? What do you do with these wooden crates? I've rounded up five useful ways I've repurposed them and used them in my everyday decor.
Time: 10 Minutes Cost: $20 Difficulty: Easy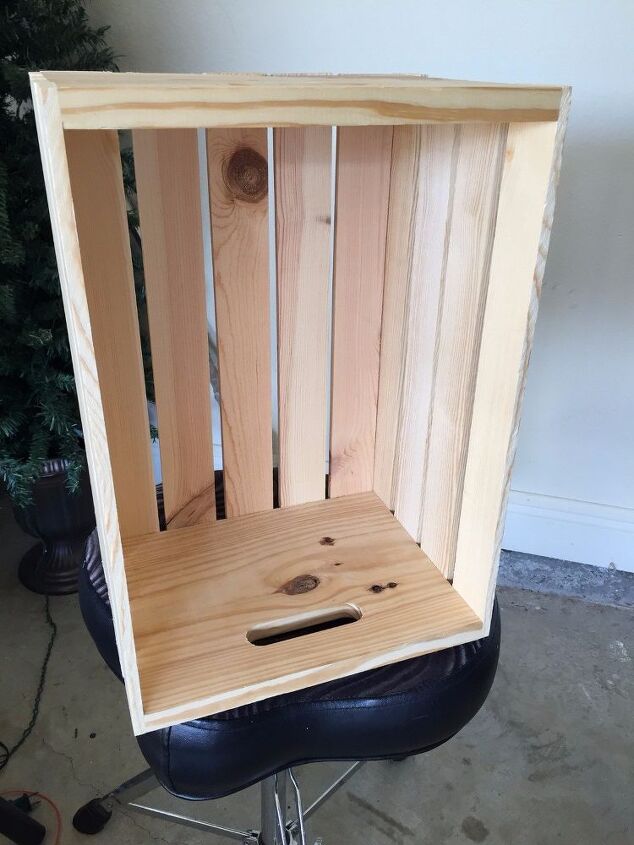 First off, these crates normally don't look "finished" when you purchase them. I found these particular wooden crates at Michaels (the craft store) for $10 each. That was a pretty good deal, so I snatched two of them up.
I used Minwax Polyshades in an espresso satin color and covered the wooden crate inside and out with it.
AFTER I WAS FINISHED STAINING THE CRATES AND THEY HAD DRIED (AND SAT IN MY GARAGE FOR A WEEK TO "DEFUMIGATE" THE STAIN SMELL) , IT WAS TIME TO REPURPOSE THESE WOODEN CRATES!
Like I said earlier I've seen these crates everywhere and every time I see them I have ideas on how I  could use them. Since I couldn't decide on just one idea, I figured I could share them here and then decided what I would do with them.
USE A WOODEN CRATE AS A BEDSIDE TABLE TO SIT A LAMP ON
This is such a simple idea, but so innovative because you can hide cords or kleenex or anything behind the crate. For $10, I think that's a pretty neat idea for a piece of furniture that can act as a table with storage!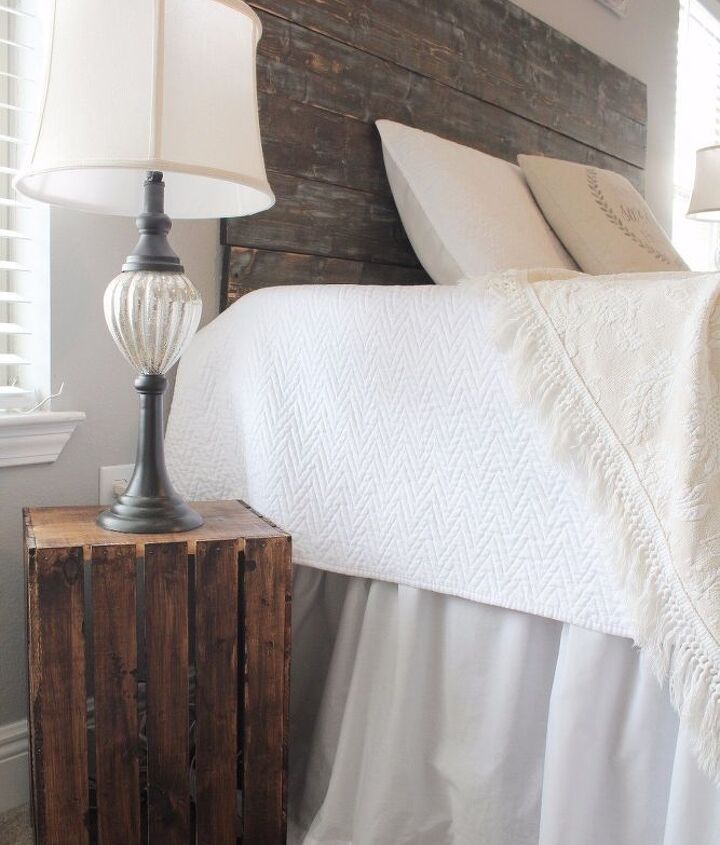 USE A WOODEN CRATE AS A DECORATIVE SHELF OR STORAGE BIN WITH A TABLE
Ok, I know this is similar to the last point, but when you turn this thing around it creates a whole different type of table! You can store books and decorative items and really add a little flair to your bedside table.
STACK THE WOODEN SHELVES ON TOP OF EACH OTHER TO ADD DIMENSION AND STORAGE TO ANY CORNER
The thing I love about these wooden crates is that they are so versatile. You can stack them or use them side by side.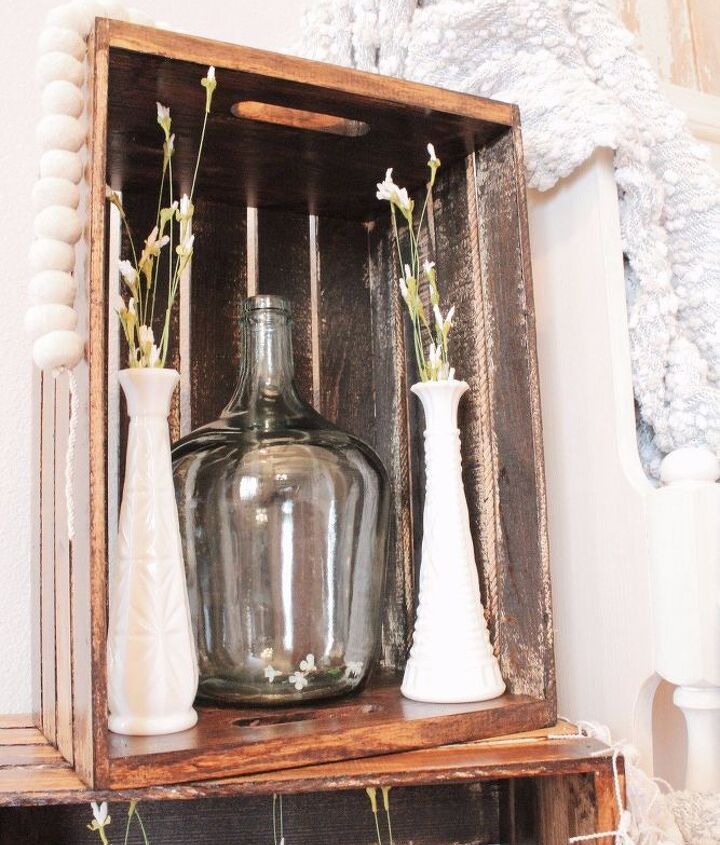 USE THE WOODEN CRATES AROUND THE LIVING ROOM TO STORE PILLOWS AND BLANKETS AND CREATE A "COZY" ATMOSPHERE
This might seem silly to some people, but wow what a difference these crates made to the look and feel of the space around my television.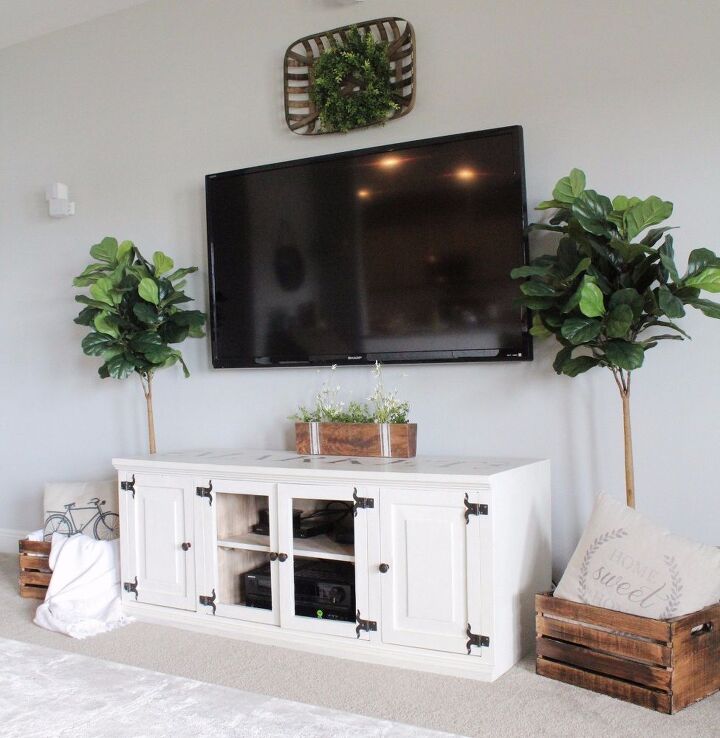 USE THE WOODEN CRATES IN A MUD ROOM TO STORE SHOES
This seems kind of like what these crates were meant for right? Not much repurposing but still such a useful way to use these crates. Not to mention the crates really hide the disaster shoe piles that wind up in my mud room. When you have kids, anything to hide piles and messes is a win, right!?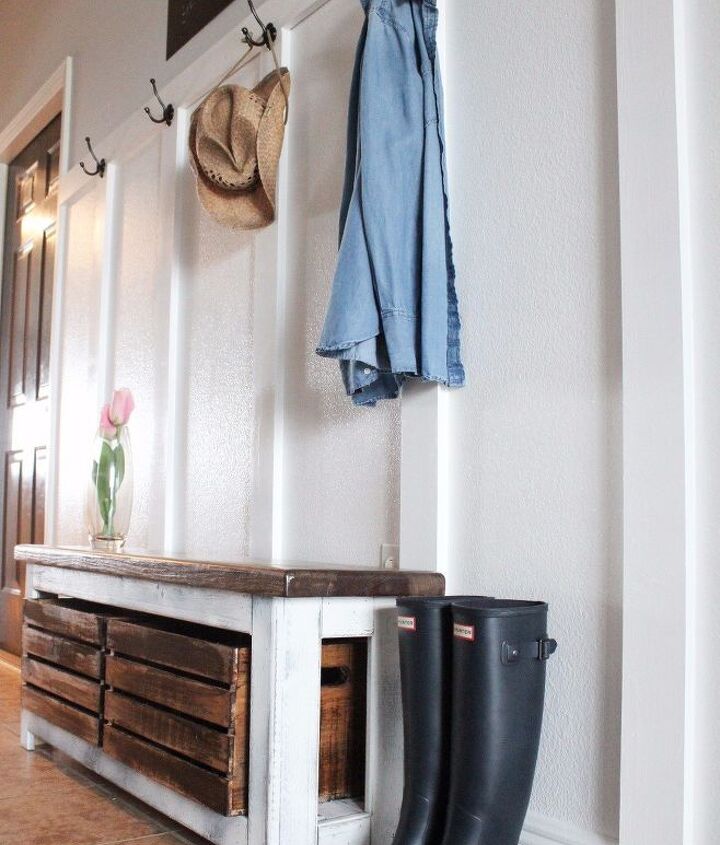 If you are interested in seeing more of the easy DIY board and batten click 
HERE
.
I've had so much fun finding different ways to style and repurpose these crates! What's your favorite idea on how to use them? After looking over my pictures I think my favorite place to leave them is next to the TV. We always need a place to store more blankets and pillow right?
As always, thanks for following along my repurposing shenanigans.
For more information and more pictures head to the blog, link below.
Thanks guys
Lindsey
Materials I used for this project:
Wooden crates   (michaels)
Minwax polyshades stain   (Home Depot)
To see more: https://repurposeandupcycle.com/useful-ways-to-repurpose-a-wooden-crate/